Unmasking the armed, violent & pro-civil war IL We The People III% Militia: Meet suburban chuds Richard Dean Poisso, Shawn Canning, Sean James Wadzinski, Josh Ellis, and Jeff Lee Harris
Just when you thought heavily armed militias were relegated to the wilds of Michigan or the deserts of New Mexico, these losers of the Chicago suburbs surprise everyone again. The chuds pictured below are members of the IL We The People III% Militia (WTP):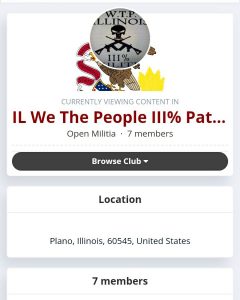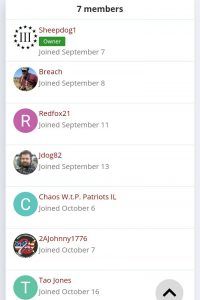 Just who are the Three Percenters aka the III%ers aka the Threepers? The current iteration of the group's beliefs is that they're gun owners who will never disarm, they're steeped in anti-immigrant and anti-Muslim rhetoric, and train for conflict against forces who would defeat Trump, along with anyone they perceive as a threat to "muh freedoms." The ADL has a fuller profile on the Three Percenters:
The national group's name is based on the [wrong] datapoint that only three percent of colonists fought against the British in the American Revolution. The organization is made up of individual chapters, which include the Three Percenter group that recently were busted as domestic terrorists for their exposed plan to kidnap the governor of Michigan and the group who stood protecting Richard Spencer and other neo-nazis at the deadly Unite the Right Rally in Charlottesville in 2017, where Heather Heyer was murdered and dozens more injured when a white nationalist drove his car into the crowd, among countless other area groups linked to armed intimidation at protests, leading to concerns about voter repression on Election Day.
WTP uses the forum MyMilitia.com, hosted by GoDaddy and Facebook private groups to recruit and organize. Interestingly, another local right wing group, Illinois Gun Owners Together aka IGOT works closely with WTP.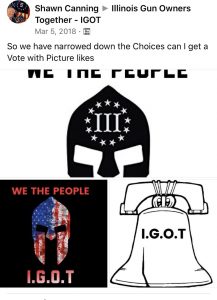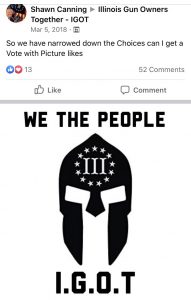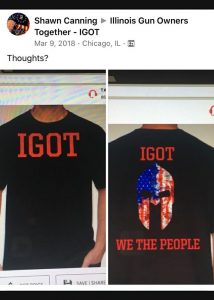 From intel, we've concluded that WTP were using IGOT's private Facebook group to recruit members under the name "Tommy Bear:"
Recently, Illinois Gun Owners Together (IGOT) suffered a huge blow to their org's anonymity and ability to publicly organize after being doxxed, and their 9k member private group deplatformed from Facebook. For more on their membership, including mega-creep Carl Arriaza, who lives with his mother in Mt. Prospect, IL, check out this thread and this other thread then this archived website: https://archive.vn/PwSZe for some very SFW information.
Since IGOT is shut down, WTP continues to recruit from MyMilitia, the Facebook-alternative that Josh Ellis, who you might remember from the ReOpen Protests this spring, is in control of and describes as "the Google search of local militias." Members of MyMilitia can join groups in their area, sharing profiles, contact information and at times, their location.
WTP is an open militia, claiming to have only seven members but the number is likely to be slightly higher. No matter the size of their membership, we know small bands of armed racists are a cause for community concern.
Fortunately, the WTP militia make it easy to pick them out in a crowd of Kyle Rittenhouse supporters; They get matching tattoos:
Richard Dean Poisso AKA Full Cend TKM, of Bartlett, IL
As friends have previously explored, Richard Dean Poisso is a conservative pro-cop mechanic and military veteran, who got his certs from UTI and his graduation was highlighted by a community member on Patch.com.
It's clear that no matter where Richard Poisso went to school, he's deep into the armed militia culture, tilting against windmills that don't exist:
Richard does security detail as part of TRT Defense, an independent security group, which he says was requested of him by the the pro-cop Back the Blue event organizers. We call BS as there aren't any TRT chapters in Illinois but fortunately he sticks out. We are narrowing down his place of employment, so keep your eyes peeled for action items in the future! For some extremely private info on Richard Poisso, please see this archived link: https://archive.is/TBycZ
Shawn Canning, of Jefferson Park, Chicago, a Walgreens manager and IGOT organizer
Shawn M Canning Jr, age 44, was an FB moderator and is currently an organizer for IGOT. Shawn is believed to be a member of WTP III% Militia. Shawn has the "We the People" tattooed on his arm which seems to be a marking pattern for members of this militia. Besides his tattoo, Shawn recently updated his profile picture on facebook which hints to his involvement with WTP III%ers. As previously mentioned, Shawn has created and advertised shirt designs for IGOT that include WTP Three Percenter logo's and references.
It is believed that Shawn is IGOT and Carl Arriaza's connection to extremist groups like the Three Percenters and Proud Boys. Proud Boys are the violent far-right neo-fascist fraternity that Trump just gave orders to "stand back and stand by" about the upcoming election, a statement leading many to believe fanned the flames of an a civil war. The Proud Boys aren't a threat in Chicago, as their members were outed by Chicago Anti-Fascist Action and include a Chicago police officer, a jailed property manager, a line cook, a WI-based former bike shop owner, and an awkward, erratic guy. But Proud Boys seem to have taken root in the suburbs.
Above is Shawn Canning, wearing IGOT shirt with known Chicago Proud Boy Edgar "Remy Del Toro" Gonzalez. In the second pic, Sean's in the green next to IGOT administrator John Coyne, third from right, wearing black and gold IGOT. Clearly a member of the group seeking acceptance, Canning seeks feedback for the logo of the militia in the IGOT facebook page. Notice the usage of the Three Percenter logo and Canning coining the militia's name, "We the People."
Do note Shawn Canning's "We the People" tattoo, which is eerily similar to Richard Poisso's tattoo. Further, the same distinctive art is pulled from Shawn Canning's Facebook profile, displaying a Three Percenter Logo in the American Flag with "We the People" written next to it.
Check out Sean's reposting of the recent extremist rhetoric often used by Three Percenters to tout a civil war they very much want to see, like those Three Percenters who planned to kidnap the governor of Michigan. It's clear that Sean identifies with these ideas and is awaiting the opportunity to harm, maim or kill his fellow Americans.
With his tattoo, his militia and his propensity for hanging out with Neo-fascists and gunloving militia members, it's fair to say that Sean is a danger to the community and anyone who doesn't share his beliefs.
Speaking of jobs, we wonder what Walgreens has to say about Sean, their general manager, LARPing on the wrong side of a pretend civil war with known neo-fascist and paramilitary group members:
    
Shawn is married to Lisa Bernal, an indigenous woman with deep roots to Sisseton-Wahpeton. Further, Lisa works at Chicago Public Schools, as program director for CPS American Indian Education Program. Sean has supported her and the program by playing the drums at traditional events. We wonder what Lisa's elders and her boss would have to say about Sean's behavior and beliefs, and whether anyone is aware of the militia group to which her husband belongs.
For some very personal information about how to get ahold of Shawn Canning at home in Jeff Park, please see this archived site:
https://archive.is/JxGlz
Finally, in case you're out and about, it's pretty easy to spot this Walgreens manager and civil war internet warrior, he advertises on his minivan:
"Chaos" AKA "Chaos WTP Patriots IL" or "Chaos Da" of Oak Forest, IL
"Chaos" AKA "Chaos WTP Patriots IL" or "Chaos Da" can be tied into into the WTP through his use of the name Chaos on social media accounts and his friendships with Breach over social media platforms. Chaos's twitter is @ChaoticDragon78 and his friends list is archived here and here in case he gets scared and decides to deactivate or go protected.
Fortunately, the dude is into group pics and selfies. Here's one taken by Chaos after participating in early voting:
Chaos is really into the WTP militia and appears to live in Oak Forest IL, per MyMilitia.com
So we have a face, some documented militia involvement and an idea that this guy is really into dragons, particularly one blue dragon named "Chaos." Oh look,
Does the man with the blue dragon tattoo on his back also have two moles on the side of his face? Is that man Sean James Wadzinski of Oak Forest IL? And bonus points to his wife, Megan Marie Camp, who is obviously interested in what he is doing, look at her facebook background pic. Sean's facebook is https://www.facebook.com/chaosdabluedragon because yeahhh. Remember Chaos's twitter followers list?
Who's that annoying reply guy? Her name is Meg and you betcha, the pics are a match to Megan Camp's pics on Sean's FB page. We archived her twitter page here https://archive.vn/NuNxH and her replies here https://archive.vn/8CZmP but wanted to highlight a few choice tweets, including the ones of her defending Kyle Rittenhouse, defending Eliazar Cisneros. Eliazar was the driver who hit a vehicle escorting the Biden/Harris campaign bus with his black truck on a Texas Highway then bragged about it on facebook (https://twitter.com/RzstProgramming/status/1322908880494596098) and also correcting the Pope?
Further, it looks like Sean places his allegiance to the III% militia on the same level as his children
To such lengths as taking his child to WTP III% Militia range day. Note the similarities between the haircut of a child on his facebook page to the one he posted on his twitter account. We edited out their face because Sean didn't.
Finally, do note the Demolitia shirt Sean's child wears and how it's the same one Sean wore when his youngest baby was born:
Even though Sean appears to be dedicated to his growing family, he hits on other women, telling a very pregnant woman how sexy she is over twitter (https://archive.vn/m6eT2):
Lastly, we are pleased to share his home address and all available contact information for Sean James Wadzinski aka Chaos WTP aka Chaos Da Dragon:
 If you have any information on Sean James Wadzinski or Megan Camp of Oak Forest, IL please reach out us at annefrankarmy@protonmail.com Your anonymity is assured.
Breach of WTP III% & Streator, IL resident
"I'm just a patriot that wants to do patriot shit!" – Breach's twitter bio.
We can only imagine what that patriot shit Jeff wants to do based on his statements on Twitter. You might recall Breach from his buddy Chaos the Dragon's social media. Jeff uses his social media accounts to spread misinformation and insight fearful and extremist rhetoric about antifascists and the upcoming election inline with the hopes of WTP III% in starting a new civil war. You'd think with 60 years on him (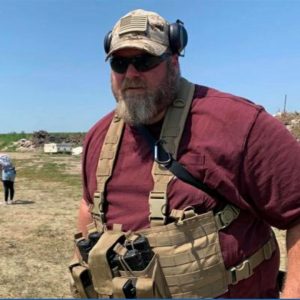 Breach uses the same Twitter profile pic as he does for his MyMilitia WTP III% profile pic, so finding him was pretty easy.
Running a simple GEOSINT search, we were able to determine that Breach lives at this house in on Streator, IL, which is owned by Jeff Lee and Diane Harris, his wife. Also of note, is that Jeff owns several speedboats.
We believe the Harrises to be retired but any additional info on them would be helpful! Our final confirmation is the same sunglasses from Jeff and Diane's boat adventure are the same ones Breach wears on militia day and in his Twitter and My Militia profiles.
Don't hesitate to reach out to share any info on Jeff Lee Harris AKA Breach, through annefrankarmy@protonmail.com Any and all info is confidential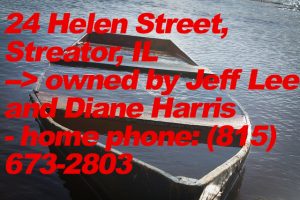 Josh Ellis , AKA American Revolution 2.0, Super Admin of MyMilitia.com & member of WTP III%

Josh Ellis is current head of MyMilitia.com, the internet forum for militia heads use to connect and organize. Josh is also a member and in fact may be a leader in the WTP III% militia. His moniker "AR2" stands for "American Revolution 2.0" and his twitter follows the same naming convention: @american_rev2
Josh is a very active and enthusiastic militia member, who is a well-known loudmouth smart-guy braggart in the militia movement, his involvement going back since starting the American Revolution 2.0//national Reopen Protests earlier this year. Remember? That was when the conservatives revolted against the COVID "shelter in place" orders so that the infection curve could be flattened. The Reopen protests created public pressure so eventually, the poor and working classes were forced back into pandemic hot zones so that small businesses, like his, could stay afloat. Josh's many anti-lockdown protests across the country have attracted outright white supremacists into his groups, as evidenced by their presence in their forums.
Josh is quoted in the November 3, 2020 edition of The Mirror saying that militias will form to defend the election in cases of leftist fraud: https://www.mirror.co.uk/news/politics/armed-militia-prepare-take-streets-22947947
For a deeper dive into Josh and MyMilitia see this article from Vice: https://www.vice.com/en/article/y3gmmk/meet-mymilitia-where-right-wing-extremists-find-friendship-and-fantasize-about-violence
Additionally, Josh's youtube channel features videos livestreams of him and his militia buddies doing MAPA (Make America Patriotic Again, or Management of Actual and Potential Aggression), which turns out to be staking out BLM rallies in Wisconsin with open and concealed firearms "to keep order and peace in this screwed-up world."
Josh has been in attendance and livestreamed:
Armed Three Percenters and other militia in Louisville, KY marching in opposition to and harassing the Not Fucking Around Coalition (NFAC), and Black Lives Matter. For more information on NFAC, the armed Atlanta-based black militia whose leader embraces anti-Semitic rhetoric, see CNN's coverage
Him staking out the BLM protest in Wauwatosa and Kenosha WI, including being present the night Kyle Rittenhouse shot and murdered protesters Joseph Rosenbaum, 36, and Anthony Huber, 26, and seriously wounded a third man, Gaige Grosskreutz. Also in the livestream, Josh interacts with multiple other militia members
Rallies at Rittenhouse's court dates in Waukegan, WI. It should be noted that oftentimes their group of khaki-clad and masked WTP III% ers and their allies are also present supporting Kyle.

Josh films a large group of the WTP III% militia

showing their support for Kyle Rittenhouse at an extradition hearing on October 9th, 2020:

At the rally, we see Jeff Harris aka Breach WTP III% of Streator, IL chatting it up with Josh Ellis and then we see the WTP boys Jeff and Richard Poisso arguing with a Black Lives Matter supporter
On September 5th, Josh and the WTP III%ers went down to Louisville, KY to livestream and join a 250+ armed march of militia and patriots led by The Angry Viking, real name Dylan Stevens. Here's a picture of the Angry Viking, pissed about being de-platformed on social media, also with a WTP logo on his arm: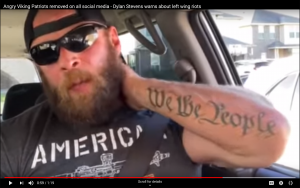 Here is Angry Viking's twitter,and here is this fuckers twitch.
Last but not least, Josh Ellis co-owns a home-repair program called Dream Home Ninjas and owns Cosh Home Services in Warrenville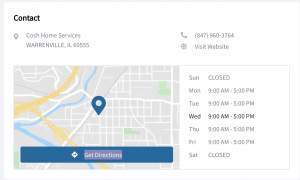 Meet Paul aka Jdog82
Paul is another member of the WTP III% militia and shares quite a bit on his MyMilitia profile.
He's 38 years old, former Marine Mortarman, currently lives in West Chicago, IL where he drives for Uber. We've archived his profile here https://archive.vn/Pc8I0 and will be focusing on identifying him in the coming days, so keep eyes on our Twitter @AnneFrankArmy!
If you know anything about Paul aka JDog82, reach out to annefrankarmy@protonmail.com
Sheepdog1 of Wheaton IL
Sheepdog1 is the creator of WTP's online portfolio and possibly a leader within the militia. Sheepdog1 can be seeing attempting for mass recruitment on the internet.
If you have any information on Sheepdog1, please reach out to friends at @annefrankarmy@protonmail.com all info will remain confidential
One more face
Finally, from IGOT's Free Kyle Rittenhouse rally at the detention center where he's being held, as explored in our previous article (https://annefranksarmy.noblogs.org/a-look-inside-chicago-alt-right-militias/) this yet-to-be-identified woman is sporting a We The People tattoo, like Shawn Canning and other members plus an IGOT shirt, indicating that she may be part of the militia as well. Please contact us with any info!
Antifascism is community defense! We take all tips and info about militias, Proud Boys, IGOT, and other fash trash in the Chicagoland suburbs. Reach out to us at annefrankarmy@protonmail.com and find us on twitter at @AnneFrankArmy