Chicagoland-based Back the Blue & Protest the Protesters Organizer Emily Cahill Goes to Knox County Jail
Earlier this month, Emily Cahill of Galesburg, IL, well-known MAGA fascist in the Chicagoland area and across the state, went to prison for possession of meth and guns. We'll share a short list of her accomplishments as the bootlicker who's all for backing the blue, and ironically also about breaking the law. It is important to highlight this Trump loser because, as cringey as she is, she is prolific and gained clout as rally organizer/livestreamer in the MAGA orbit, plus she has expressed no signs of slowing down. Also, as a closing thought to this article we talk about abolition and fascism in the post-Jan6th insurrection era. Much thanks to researchers in Chicago Antifascist Action and Shield Wall Chicago for their massive MAGAleaks! Plus she'll be turning 33 on Tuesday, 3/25 so what better way to celebrate? And wow such strong Aries vibes!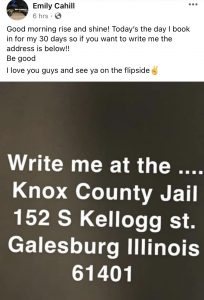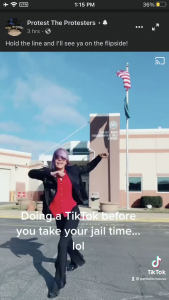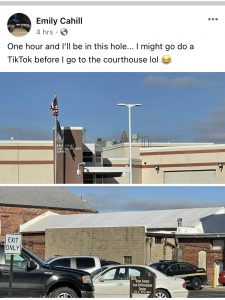 -about Emily's case-
In 2017, Emily was on parole from Illinois Department of Corrections, where she spent nearly two years in prison from a felony meth case and archived here.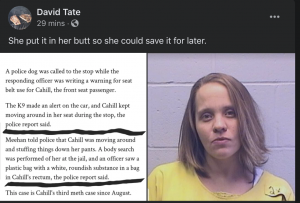 Then in January 2020, she and Banjamin Norville, her rappie / co-defendant, got caught at with over two pounds of methamphetamines, three guns, and scales. A felony possession of a firearm can carry up to three years and we're not lawyers but have heard that the second meth offense is usually worse than the first.
Somehow Emily managed to pull off an extremely unlikely plea deal for significantly less time to serve for her third felony, receiving only 30 days in county jail plus having her gun charges dropped. Again, we're not lawyers but have watched enough of Bob Loblaw to know that low-time sentencing often speaks to cooperation between the defendant and the court. Per Insider, if we take a look at the degree in which right-wingers cooperate with law enforcement, as we are seeing with the fallout of the Jan 6th siege, we shouldn't be surprised. Of course, we cannot say for certain that Emily has cooperated with law enforcement in exchange for reduced sentencing, but coupled with Em's pro-police bootlicking ways, it would not surprise any of us if she had snitched on her friends, co-organizers, and fellow Back The Blue, Stop the Steal, and Protest the Protester rally-goers.
-about Emily-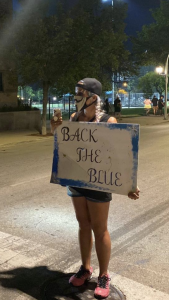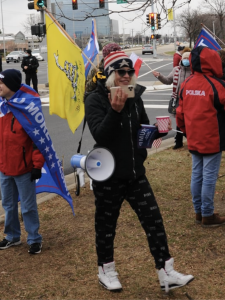 Despite awaiting trial, Emily regularly traveled out of state to join regional and national MAGA actions, including Trump's Wisco speech, then to Kenosha, WI, for court support for vigilante murderer Kyle Rittenhouse in 2020, as reported by Shield Wall Chicago.
Emily's business card, grabbed from a publicly-available livestream of a 'Free Kyle'  rally. Livestream courtesy of a well-known Militia leader, Josh Ellis of the WTP III%. Learn more about Josh Ellis, of Naperville, IL and leader of MyMilitia.com, the so-called Amazon of extremist groups, per Vice.
Per her own Twitter, she was spotted in Florida at CPAC in late February 2021, which we have archived here.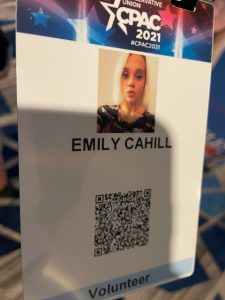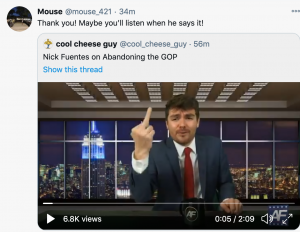 Ahead of CPAC, Emily was attempting to curry favor with the host, known white nationalist Nick Fuentes, of LaGrange Park, IL.
Every time she traveled, she violated the terms of her bond, and when questioned, she would respond that she is 'traveling on business,' referring to her weird livestream/performance art piece Protest the Protesters, which she has claimed is registered non-profit. We only mention this to further illustrate the bootlicking hypocrisy at play here: Emily simultaneously defends rule and law plus has rallied against the recently-passed bond reform law Illinois HB 3653 which increases pretrial freedoms for people facing charges, from which she herself would stand to benefit. And one would think that Emily would have have by now developed some sort of firsthand empathy for people sucked into the carceral systems. Instead, she organizes and advocates for policies that hurt people in her exact position. Emily's cognitive dissonance on full display.
We encourage and are pleased to note that generally speaking, if someone breaks a law in order to improve their situation, people look the other way. However, we would be remiss to ignore how Emily's felony case and bond are directly tied to state and national borders (which are fictitious and oppressive militarized tools of states); Emily feels she has every right to break the rules when convenient. In keeping with these mental gymnastics, she professes her support that law enforcement, including Chicago Police, maintain the right to criminalize and incarcerate. We can surmise that's probably because she knows her and her fellow MAGA chuds have rarely been targets of law enforcement and are far less likely to ever be sucked into the maws of the prisons. This yt vigilante entitlement leads to other contradictions as well, such as the Jan 6 insurrectionists who broke plenty of laws in the name of patriotism and law and order, most notably when they beat and killed those cops with Trump flags and fire extinguishers in an attempt to overthrow an election, on Trump's orders.
Speaking of…
-Emily and the Capitol Siege-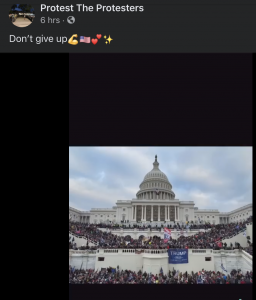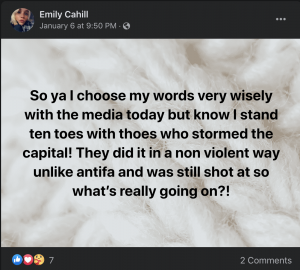 While Emily did not attend the failed coup attempt on Jan 6th in DC, she participated in the #StopTheSteal movement, making herself a fixture at the small rallies in the loop. During summer 2020, Emily organized closely alongside members of the Proud Boys and the III% Militia, and those groups would eventually plan for violence at the Capitol. Nevertheless, she endorses the attack on the Capitol and continues propagating for Trump's brand of fascism. She disseminates anti-vax propaganda and disinformation about Covid and the Big Stolen Election lie.
As a member of the Will County Young Republicans, urges people in her right-wing echo chamber to become poll watches and election judges.  More recently, Em continues campaigning for far-right candidates in local elections against RINOS, aka 'Republican In Name Only,' targeted for speaking out against Trump.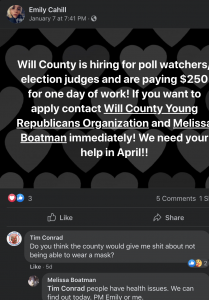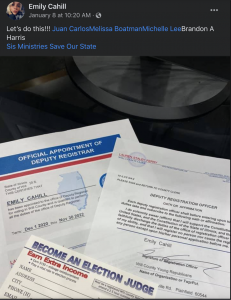 Before her sentencing, she promoted the Schaumburg MAGA rallies, which were gathering spots for right-wing extremists to radicalize normie conservatives and Trump supporters..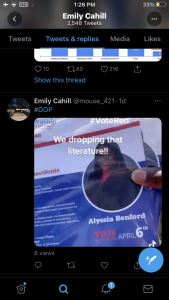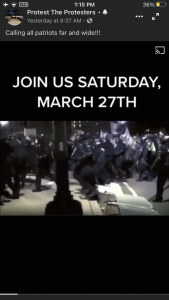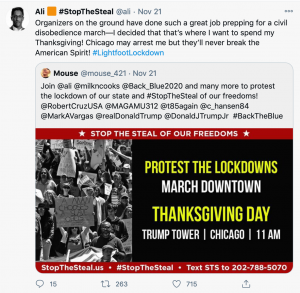 As reported by comrades at Shield Wall Chicago, Emily co-organized a #StoptheSteal rally on Thanksgiving with Ali Alexander. You may remember Ali, who along with Roger Stone, spearheaded the astroturf 'grassroots movement' which led directly to the storming of the capitol on Jan 6th. Ali Alexander is now out on the lam as he is definitely culpable in helping and planning the coup attempt. In fact, he coined the slogan: Stop the Steal.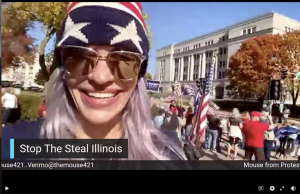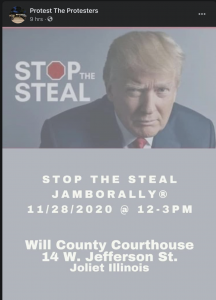 As reported on Springfield WSRP, Em also organized weekly #StopTheSteal rallies at the Springfield, IL, statehouse (archived here), occasionally under the banner of Save Our State, her anti-lockdown pivot against covid restrictions on businesses, regulations which always lead to higher covid rates when lifted. For Em and her free-market fascist ilk, capitalism must win even if it kills us.
Below, Em retweets a meme from right wing stalker Carl Arriaza, who we have previously documented as being the leader of the pro-gun rights club Illinois Gun Owners Together (IGOT) a 2A club whose large facebook group served as a recruiting ground for various militia before being de-platformed in November 2020.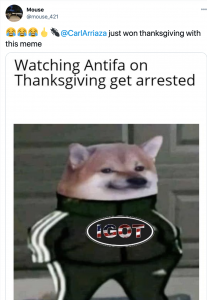 .
Additionally, in November, Emily was heading out of Illinois,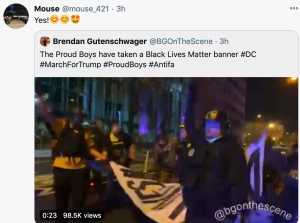 making plans to attend one of the Million MAGA #StopTheSteal Marches in DC, the one where Proud Boys committed violence and hate crimes. What did Emily have to say? Per her social media post, she celebrated the destruction of a Black Lives Matter banner that was ripped from a historic black church in DC by Proud Boys on Dec 12, 2020.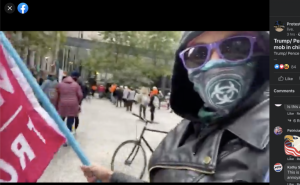 Em Cahill likes to troll leftie events and protests, and sometimes covers up, attempting to blend in. She is always evicted without too much of an incidence, but her proximity to violent right-wing extremists creates situations that are moments away from becoming physical.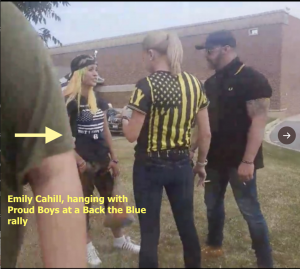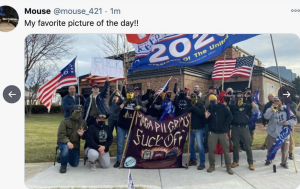 Above, Em Cahill is captured mingling with her friends in the Proud Boys, who attend her events in suburbs like Lockport(above) but also numerous times in Chicago over the summer in 2020.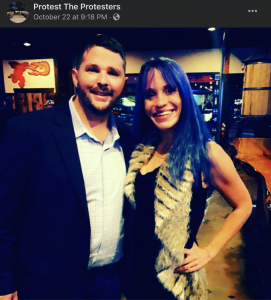 Em Cahill with Tom McCullough, 'Law and Order' GOP candidate who lost election for Illinois State Rep.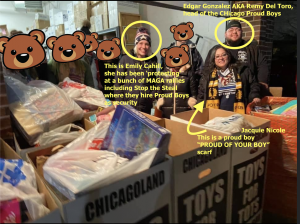 Emily has also hijacked the Toys for Tot's program along with the Proud Boys, who she organized with at the weekly Schaumburg MAGA gatherings. There, various militias, proudboys, QANON cultists and Jan 6th insurrectionists come together to spread conspiracy theories, make open threats against leftists, and spread hate and covid.
Emily also runs Scribblez, aka SIS Ministries, a service which sends postcards and letters to prisoners for a cost. Prisoners face many difficulties under the draconian rules for mail and media, which can vary from locations, and many third-party services fill a role helping streamline a difficult process for family and friends of incarcerated persons.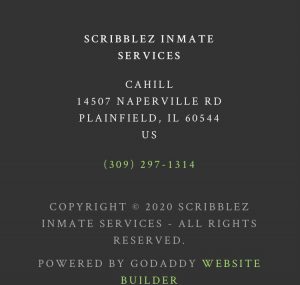 However, Em's prices are too damn high and clearly exploitative, unfortunately an all-too-common a practice by shark companies preying on people in difficult situations having trouble navigating complicated rules on mail. Activists are currently resisting this in large scale by private profiteers like GEO and telecommunications corporation Securus, but small timers like Emily slip through the cracks. For example, she charges $70 for looking up information on how to contact / mail a prisoner. This is a grift of the most shameful order, taking advantage of prisoners and their families in the most difficult times of their lives.
And from her business facebook, it looks like Emily is getting ready to pivot her exorbitant prison mail hustle into hosting living arrangements for women exiting the carceral system, which normally we'd applaud but in Emily's situation, we warn everyone to stay far away from this indoctrination station, slated to open in January 2022.
We believe Emily operating a sober living house would be detrimental to the health and well-being of the residents, because as noted by Shield Wall Chicago, Em Cahill is also a spreader of alt-right nazism and QANON conspiracy theories.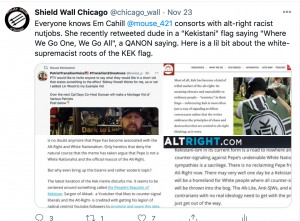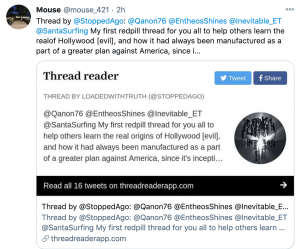 In an attempt to stay relevant, Emily started numerous organizations with different names in order to reflect various pivots and angles in which to spread her hateful message. Here is Patriot First zone, which she co-runs with Ashley Ramos, a friend and associate in Back the Blue Events, who have been best described as fascist cop cheerleaders. More on this group documented by Chicago Anti-Fascist Action. Emily hosted an irregular live discussion with Ashley where they threw more shit on the pile in what is is known as the culture wars / GOP politics.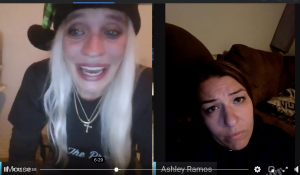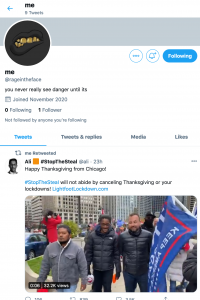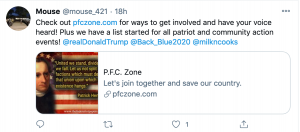 – on abolition and fascism…. –
In the post Capitol Siege era, where Jan6 insurrectionists are being fully doxxed and charged with conspiracy by law enforcement, possibly facing jail time, we begin asking what is to be done with with them? For some, it is antifascism before abolition, which is the liberation movement rooted in the understanding that by building stronger communities and societies, we remove the need for police and prisons. Perhaps some sort of transformative justice models or de-radicalization accountability could be applied to specific individuals who are ready to come to terms with the harm that they have caused. However, those interested in all this number in the few, and for the most part, fascists are not at all regretting their participation in the attempted violent overthrow of an albeit sucky neoliberal democracy, or with regard to the specific harms they have wrought upon individuals in leftist / antifascist circles. With regard to abolition, there are two million people incarcerated in this country, all who we care more about than the fate of these MAGA rioters, who in all their privilege have rarely before in their lives experienced the pain caused by these prisons. This said, we do not nor ever will work with cops to bring 'justice' to these insurrectionists, and by doing so gives legitimacy to the police state apparatus which has never taken the very real threat of these racists and fascists seriously at all. They will use this legitimacy in order to strengthen their ability to prosecute 'extremists', which will then be weaponized against the left.
Lastly of course, NEVER TALK TO TO PIGS. Every day is Shut-The-Fuck-Up Friday.
Law enforcement can and will use anything you say against you or comrades. Law enforcement are the enemies of the people. If you are the subject of an investigation, learn more about your rights, contact an attorney,
, and let friends and comrades know so that together we can get through whatever challenges we face as a community. An injury to one is an injury to all!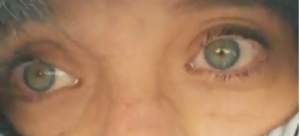 If you have any information about any of these following organizations, or about any other fascist happenings, email us at Anne_Frank_Army@riseup.net